There are times I walk by a mirror and know I don't want to see what's there. Other times I need a mirror to make one part of myself presentable but pose in a way that prevents me from seeing other parts. Or I use as small a mirror as possible to get the job done.
It's rather personal, but my guess is I'm not the only one.
But as interact with the mirror--looking at less attractive features and seeking solutions--the reflection changes over time.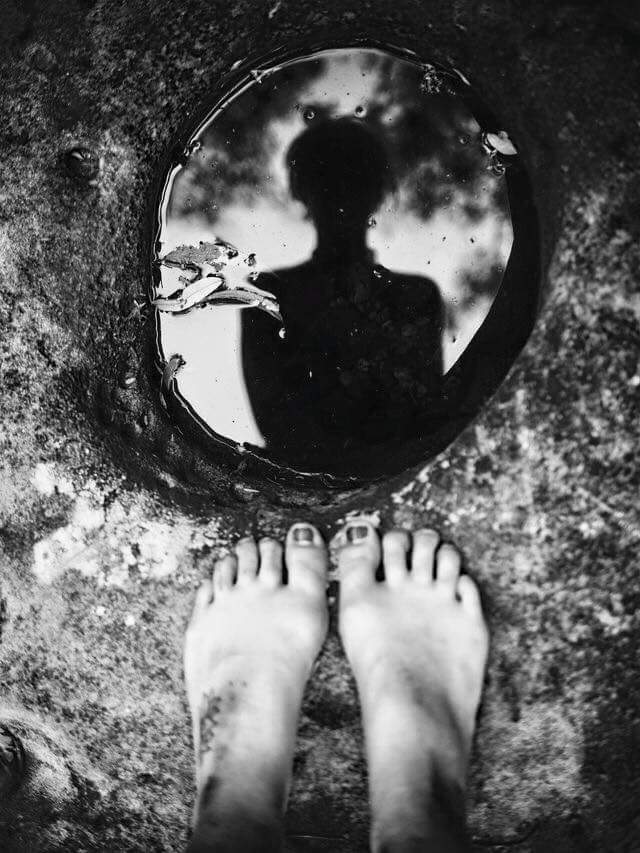 https://pbs.twimg.com/media/CT3zNqJWcAAO-2c.jpg:large
The same is true of God's Word--likened to a mirror. Sometimes I don't even want to know what it says about who I am and what I'm like, so I avoid it altogether. Other times I read portions of the Bible that are comfortable--over and over--and avoid those that reveal things I don't want to see. Sometimes I use as small a piece of the Bible as necessary--or take it in the smallest possible dose (i.e a sermon)--to get the job done and say I did it.
Much like a child playing peek-a-boo, if I can't see it, it doesn't exist. But we know better, don't we? Just because we don't see the problem doesn't mean others don't...that God doesn't. What it means is that I don't. And that's really, really dangerous.
In the world of mirrors, fashion, and real life, I don't have to care what others think of me. It can be a total focus or total disregard. In spiritual terms, what's there is there. Reality counts. Reality has consequences. Reality is not just temporal but eternal. Ready or not, I need to know. And, as I interact with the truth of God's Word and the reality of my need, He works change over time. Unlike a mirror, God not only reveals the need, He provides the solution.
In Christ, we are not left to our own devices. Because of the Spirit that resides in His people, God pursues us, works for our perfection and Christlikeness. He is more concerned about our outcome than we are. So, when God presents and opportunity to look soundly into the mirror of His Word, take it. Thank Him. Ask for help restoring and reconfiguring your reflection. When we look in and Christ looks back, what joy!
O Lord, You have searched me and known me.
You know when I sit down and when I rise up;
You understand my thought from afar.
You scrutinize my path and my lying down,
And are intimately acquainted with all my ways.
Even before there is a word on my tongue,
Behold, O Lord, You know it all.
You have enclosed me behind and before,
And laid Your hand upon me.
Such knowledge is too wonderful for me;
It is too high, I cannot attain to it.
Where can I go from Your Spirit?
Or where can I flee from Your presence?
If I ascend to heaven, You are there;
If I make my bed in Sheol, behold, You are there.
If I take the wings of the dawn,
If I dwell in the remotest part of the sea,
Even there Your hand will lead me,
And Your right hand will lay hold of me.
If I say, "Surely the darkness will overwhelm me,
And the light around me will be night,"
Even the darkness is not dark to You,
And the night is as bright as the day.
Darkness and light are alike to You.
For You formed my inward parts;
You wove me in my mother's womb.
I will give thanks to You, for I am fearfully and wonderfully made;
Wonderful are Your works,
And my soul knows it very well.
My frame was not hidden from You,
When I was made in secret,
And skillfully wrought in the depths of the earth;
Your eyes have seen my unformed substance;
And in Your book were all written
The days that were ordained for me,
When as yet there was not one of them.
How precious also are Your thoughts to me, O God!
How vast is the sum of them!
If I should count them, they would outnumber the sand.
When I awake, I am still with You.
O that You would slay the wicked, O God;
Depart from me, therefore, men of bloodshed.
For they speak against You wickedly,
And Your enemies take Your name in vain.
Do I not hate those who hate You, O Lord?
And do I not loathe those who rise up against You?
I hate them with the utmost hatred;
They have become my enemies.
Search me, O God, and know my heart;
Try me and know my anxious thoughts;
And see if there be any hurtful way in me,
And lead me in the everlasting way. (Psalm 139)